WWE
4.32.26
Never Miss a Minutes Action
WWE is still as popular now as it has ever been. It may not get the same amount of airtime that other sports get, but that does not mean that you have to miss out on what is happening. It doesn't matter where you are, you will be able to watch your favourite wrestler and see the official sessions when you download the WWE app.
There is a way that means not only will you be able to access all the latest bouts but also can get extra information. There will be the latest news on the wrestlers and any bouts that they have in the near future. Pictures will be available so there is no need to struggle to know who the new contenders are or see how the old hands have changed over the years.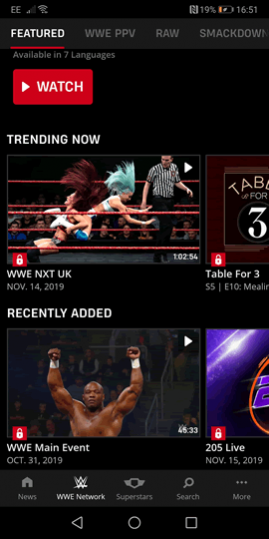 Once you open the WWE app there is a list across the top showing all the different variations there are. If you select "Schedule" then you will be able to find out what is coming next. Once you have selected the video that you want to watch, you can find out if it is available in your language. You can still watch if it is not, but you will just have to choose another language. There are 7 available so there will be one that is suitable for many people. If you can't find the video you want then there is a search facility that should send you in the right direction. Once you have found it, you simply click the large red "Watch" button and it starts to download.
Some of the content is going to be original so that is a definite reason to download the app. The latest news will be available so you can make plans around the next big event that you want to watch.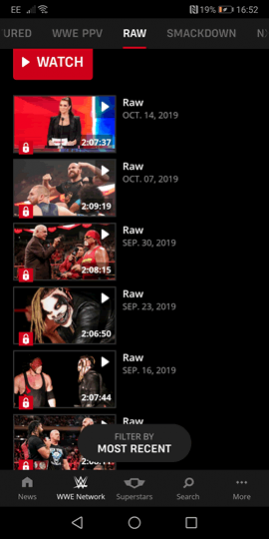 As you work your way through the WWE app you will be able to find what is trending and what videos have been recently added. All WWE PPV content is available and this includes Wrestlemania. It will not be possible to watch everything that is available as there are thousands of hours' worth of coverage. Even if you think you are getting close to seeing it all there will be something new added.
As well as watching all of the action in the ring there are interviews with some of the best know stars past and present. Reality shows will all be screened and premier programs will be shown such as 205 Love and NXT.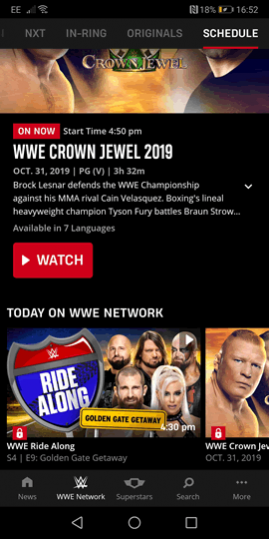 When there is no new content to watch you can go back to the vast catalogue of Raw and Smackdown offerings. Included in the PPV historical videos are all of the ECW, WCW and WWE events.
If you want to know more about the people you are watching then you can check out their profiles. Biographies will be provided and you can find out when they reached milestones in their careers.
Features
Search out exactly what you want to watch
Learn about all of your favourite events and the stars
Click on sections to get the events you want
Watch PPV and regular events
Regular addition of new videos
Extensive back catalogue that are easy to find
Conclusion
This free to download app can be found in the Home and Hobby section. It has been updated in October 2019 and is suitable for Android phones. There were mixed reviews when this happened and it is hoped that the initial problems have been ironed out. It is unlikely that anything will have happened in the world of WWE that is not to be found on this app.
---
Add a review
Tell us your experience with
WWE
4.32.26
RELATED PROGRAMS
Our Recommendations
---
---
---
---